NEW GRAND RANKS
Companions, Today (Thursday 7 May 2020) we should have been in London for the Grand Senatus but due to the suspension of all meetings we can only watch from afar. The Grand Summus, Most Distinguished Companion Ian S Currans has today released the following Address : https://youtu.be/ljBTiIc5rOY. Within our own Province we congratulate Very Distinguished Companion Colin Hume IV PGReg, Distinguished Companion Michael Andrew Stephen IV PGSwdB and Distinguished Companion Alan Ruddell IV PGStB on their new Ranks / Appointments.
Charity Donation.
The Provincial Grand Summus R Dist Comp M A Jacques on behalf of The Provincial Grand Senatus of Durham and Northumberland and the Provincial Grand Conclaves of Durham and Northumberland made a donation of £500 to Heel and Toe Children's Charity covering the North East of England. (https://heelandtoe.org.uk/) This is something that we can all be proud of Companions.
SAD PASSING OF DIST COMP PETER GORDON DUNN.
It is with much sadness that we mourn the Passing to the Grand Consistory Above of Dist Comp Peter Dunn. V PGHer. Peter was a Founding Member of Keys of jericho Consistory and PeterGlyn Williams Consistory. In fact Peter was the Founding President of Keys of Jericho Consistory and served in that Office from 2009 to 2011. Peter was awarded Grand Rank og PGher in 2010 when the Scarlet Cord became a Sovereign Order. Although poor health caused peter to curtail his attendances at many Orders in which he was an active member, he kept his membership of the Order up until his Passing on 21 April 2020.
GENERAL SUSPENSION OF MASONIC ACTIVITY
The following letter was received from the Grand Recorder on 17 March 2020.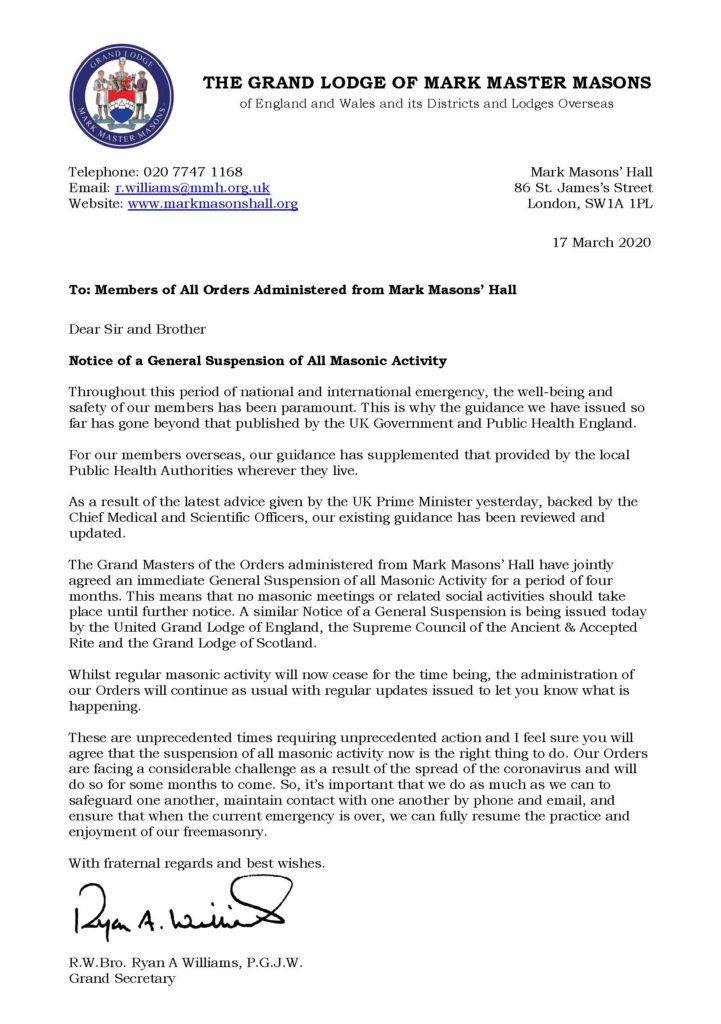 PROVINCIAL VISIT TO THE KEYS OF JERICHO CONSISTORY No 7 TI
Companions, On March 5th 2020, Provincial Grand Senatus visited Keys of Jericho Consistory. The ceremony of Installation of Dist Comp Gary D Taylor VI as President was excellently carried out by Dist Comp John D Watts. There followed a Preparation Ceremony for 6 new Em Comps. This was carried out in an exeplarory manner by the Officers of the Province headed by R Dist Comp Michael A Jacques our Provincial grand Summus.
The evening saw for the first time the Provincial Grand Tzadikkum, headed by Dist Comp John D Watts, with their new swords and regalia.
There was a great turn out from nearly every Provincial Officer and many had travelled far from North of the Border. The meeting was graced by The Provincial Grand Supreme Rulers and their Deputies of the 3 OSM Provinces that make up this Provincial Sennatus (Except Bro Reece who should be joining Andrew Christopher Sweeney Consistory No 112 as soon as Masonic meetings resume). R Wy Bro Ken Embleton and Wy Bro Robin Knight from Durham; R Wy Bro Colin Hume from Northumberland and R Wy Bro Morgan McDonald and V Wy Bro David Thomson from East Scotland. Below are a few pictures taken on the night.